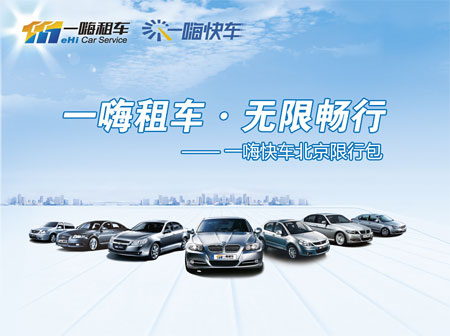 The Chinese will buy 16.7 million passenger cars and light commercial vehicles this year, about five million more than consumers in the U.S., according to the most recent research by J.D. Power and Associates. Driven by China's rising middle class, breakneck development of suburbs and roads, and drastically reduced tariffs on automobile imports since 2001, a torrent of cars is choking Chinese cities in traffic and pollution. Convinced that a market existed for car rentals, Shanghai-born Ray Zhang, the founder and former chief executive officer of logistics software maker Adelph in Emeryville, Calif., returned to China in 2005 and launched eHi Car Rental a year later with $5 million in venture capital, promoting renting as a greener alternative to owning.
Today his 1,400-employee company has 150 outlets nationwide, 500,000 rental-service members, and 4,000 business clients that use its chauffeurs. In 2009, eHi introduced Shanghai to FastCar, its Zipcar-inspired car-sharing service, and plans to expand it to four additional cities by yearend with the help of a $70 million investment led by Goldman Sachs. Zhang, 46, says eHi had $15 million in revenue in 2009 and is projecting $30 million in revenue this year and $60 million in 2011. He spoke recently with Bloomberg.com contributor Megan Shank about foreign competition, the mentality of Chinese consumers, and his plan to take eHi public within the next two years. Edited excerpts of their conversation follow.
Megan Shank: Compare the big differences in launching a startup in the U.S. and China.
Ray Zhang: In China, you face a lot of difficulties with local officials and the government to make sure you have all the right paperwork. There are fewer obstacles in the U.S., but it's also a more mature market, so newcomers won't enjoy the fast growth that's possible in China. China provides greater potential and a bigger market. There's also room for basic service companies -- like car rental -- to start up. These aren't sexy American tech companies like Google or Apple, but they're necessary and in demand.
Q: What percentage of the car rental market in China belongs to eHi?
A: A small percentage. The market is highly fragmented. There are as many as 40,000 car rental companies in China -- lots of them mom-and-pop shops with five cars. Legend Holdings in Beijing is one of our major competitors, as are many locally run state-owned enterprises. A model like eHi is fairly new. We're operating a nationwide chain with standardized services -- "self-drive" [driving a rental car on one's own] and chauffeur - - and centralized management. This industry will consolidate and a few players will dominate.
Q: In 2002, Avis and Hertz arrived in cooperation with state- owned enterprises. Hertz pulled out in 2006 and returned in 2008. On their Chinese websites, Avis lists 20 city rental outlets and Hertz, two. Are you concerned about competition from foreign rental agencies?
A: In China, drivers are required to have Chinese driver's licenses. Millions of international members of Hertz and Avis cannot be easily leveraged by these international car rental companies. We are on equal footing in terms of customer base. Whoever understands the Chinese market better, masters resources better, and executes better will have the advantage.
Q: Why provide diverse services rather than focus on traditional car rental?
A: [The cost of] low-skilled labor is low. Drivers cost 20 times as much in the United States as in China. [In China,] the price difference between chauffeur service and self-drive is not significant. For business travelers in China, it's a no-brainer -- they don't want the hassle of navigating directions and traffic or finding parking. Currently, half of our business is dedicated to corporations requiring chauffeur service and the other half to individual self-drive consumers. We think in the long run individual consumers will be the bigger market, but we want to let it play out naturally.
Q: On your website, you're selling weekend car-sharing trips to tourist destinations. Explain this strategy.
A: The idea is that we're not just saying, "Hey, car rental! Do you need a car? We have a car for rent." That's boring. We think with a vehicle your life can be more interesting, more exciting, more eye-opening. You can see the beautiful countryside. You can eat delicious crabs. You can enjoy the weekend or the holiday. We want to be part of Chinese peoples' lifestyle change. When we talk about price, we ask, "What's the price of fun?" We sell freedom. We sell privacy. We sell convenience.
Q: How do you address the reality that car ownership in China is largely about social status?
A: This mentality won't last. There's excitement about car ownership now because for many families, it's a first: The average Chinese driver only has four years of experience. But as the true expense of a car becomes clear, in some Chinese circles it's no longer a bragging point to say you own a car. We don't have to wait for every Chinese to change his or her mentality. If 10 percent of Chinese people don't believe social status is tied to owning a car, then we can already be successful and have an impact.
Q: What evidence suggests Chinese are interested in environmentally friendly businesses?
A: For the past 30 years, Chinese people have struggled from "have-nots" to "haves." Now the Chinese government wants to make the transition from radical economic growth to efficient economic growth with greater consideration for the quality of [gross domestic product], not just the quantity.
Q: Do you hope eHi will inspire higher ideals in the Chinese marketplace?
A: In China, the brutal pursuit of economic interests and development has gone too far. We have to introduce higher values. eHi demonstrates how a company with principles -- like providing stock options to employees, stressing a strong service mentality, and advocating green resource-sharing -- can flourish.
To contact the reporter on this story: Megan Shank at mm.shank@gmail.com